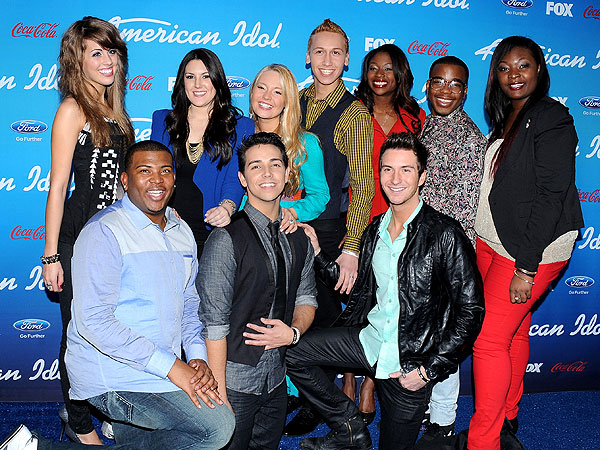 Scott Kirkland/PictureGroup
First things first: Nicki Minaj arrived on time for the live taping of Thursday night's
American Idol
. But as the evening ended, she probably wished she were still
stuck on the 405 freeway
, because things really didn't go her way. (Spoilers ahead!)
For the first time ever, host
Ryan Seacrest
told viewers how most of the contestants ranked in the voting – and even gave results on how many of them did in their home states. It was a nice touch: viewers got a clearer picture of who is likely to go the distance, and who needs an influx of votes to stick around. (
Idol
history time: The week before she was voted off,
Jennifer Hudson
actually received the most votes. It just goes to show how fortunes can change when decisions are left to the voting public.)
Seacrest quickly named the top three – and they were all girls. Candice Glover received a whopping 42 percent of the vote in South Carolina and was the first one to be given a top three spot. After being presented with the key to the city of Woodville, Texas, Kree Harrison joined Glover. And Angie Miller received the welcome news that she had gotten 17 percent of Florida's votes – and enough nationwide to round out the top three as well.
After performances by Bon Jovi and last season's champ Phillip Phillips, two previously eliminated semi-finalists competed in a battle for a spot on this summer's American Idol Tour. Charlie Askew performed an original song, "Blue Sky Diamond," while sitting at the piano. And Aubrey Cleland sang a powerful rendition of Irene Cara's "Out Here On My Own" from
Fame
. After America's vote, one of them will participate on tour.
With that business out of the way, Seacreast quickly rattled off the rankings of the next several contestants. Lazaro Arbos actually got more votes than Angie Miller in Florida, but less nationwide. He placed fourth for the night. The next four contestants were:
Amber Holcolmb – 5th Place
Janelle Arthur – 6th place
Burnell Taylor – 7th Place
Paul Jolley – 8th Place
And that left Devin Velez, who received 25 percent of Puerto Rico's vote, and Curtis Finch Jr., who has been a judge favorite since day one. After the votes were tallied, it was gospel singer Finch who received the least votes of the night. Although he sang his heart out for the judge's save, they could not unanimously vote to save him.
Minaj was clearly annoyed by the decision, complaining that the judges didn't have enough time to talk it over at the end of the live show. Despite Minaj's disappointment, the decision was final, making Finch the first finalist to go home.